I started my Tuesday at 4:30am. Er, or maybe I started it at 2? That's when I woke up and called my mom to complain (but mostly just to talk to her).
the flight
Our flight took off a little before 1pm EST on Sunday. I didn't realize that these ANA 787 Dreamliners have a window tinting feature! Rather than window shades, the windows dim to a purplish hue to darken the cabin.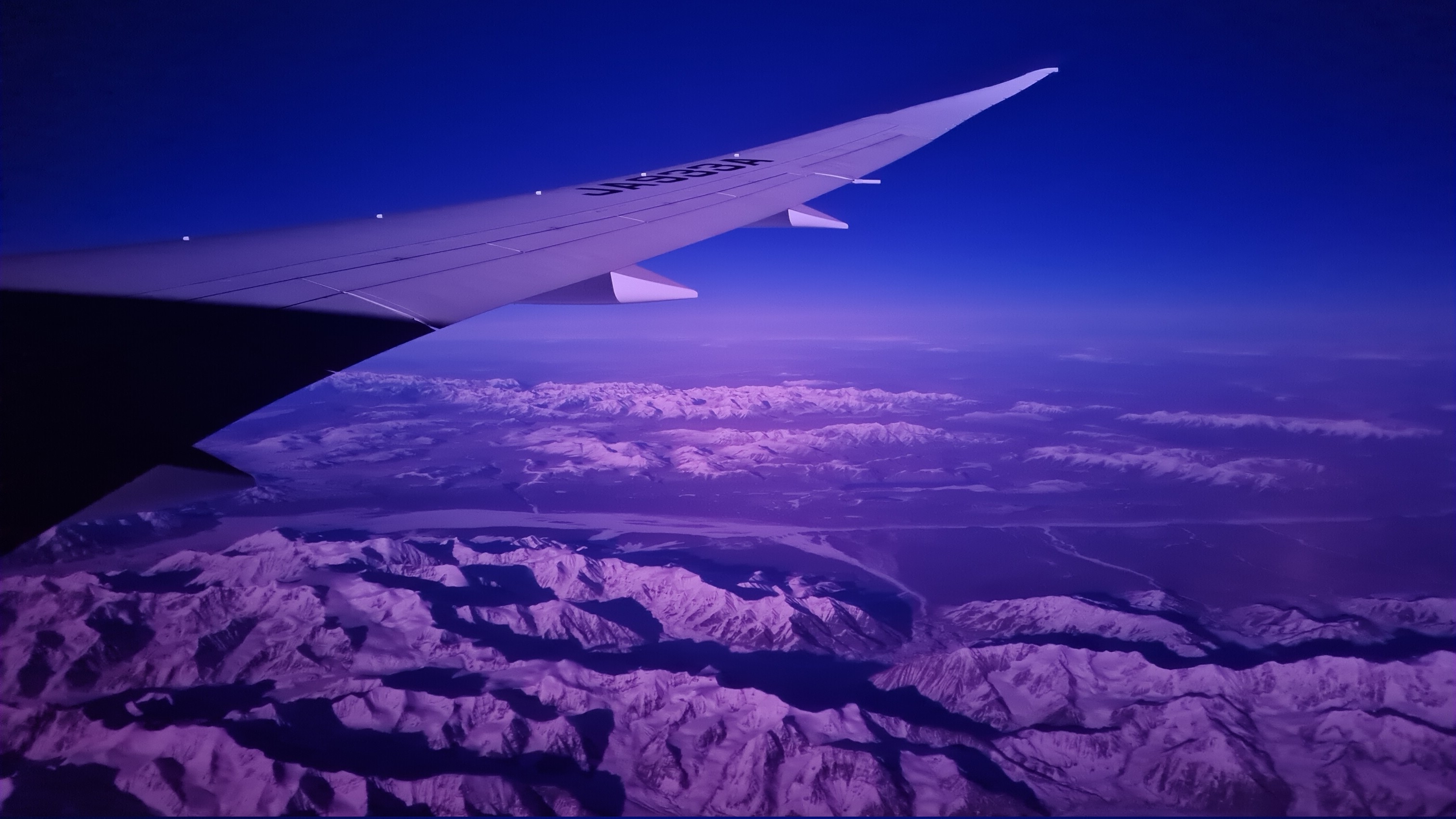 I got two delicious meals plus a couple snacks.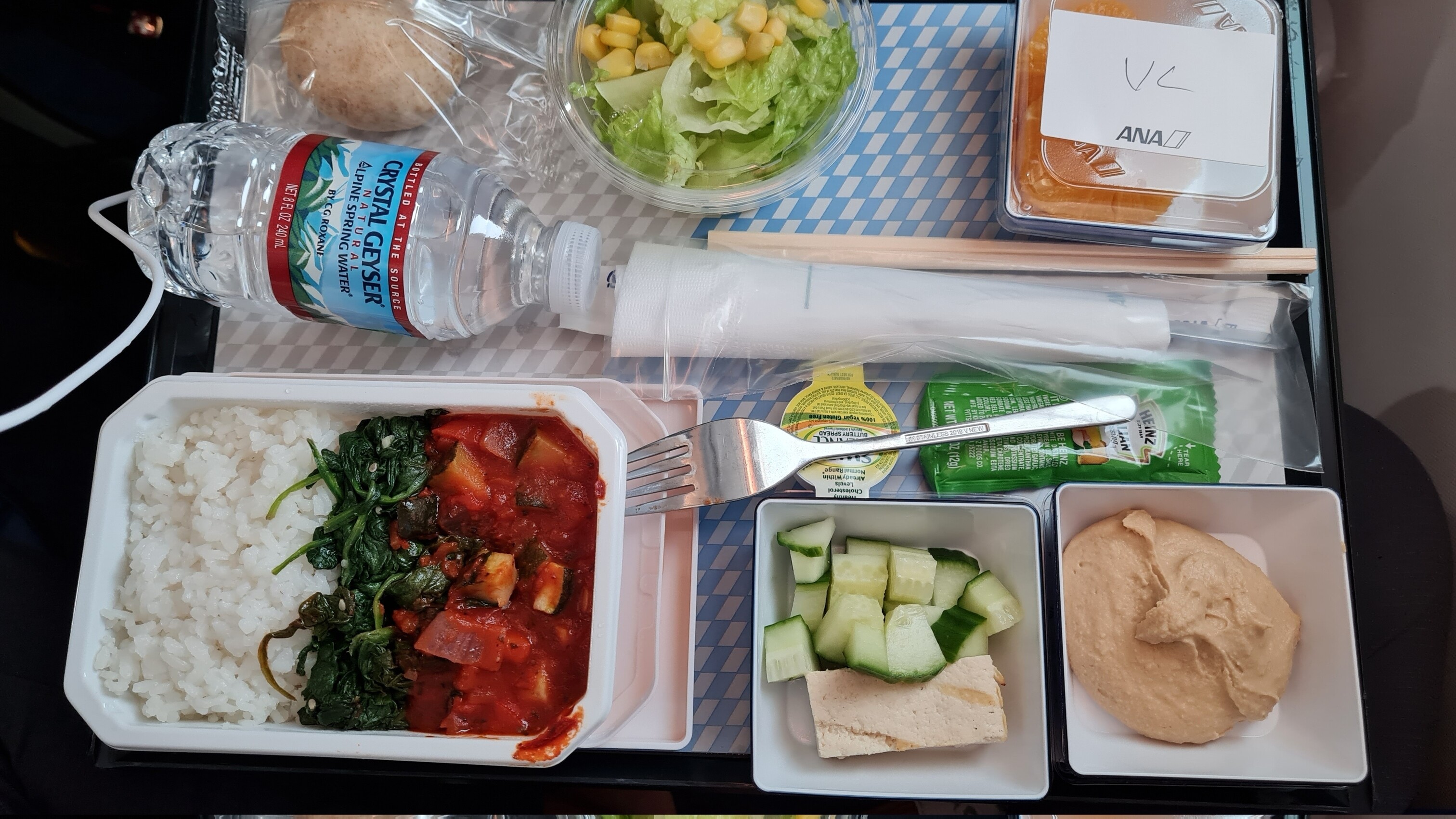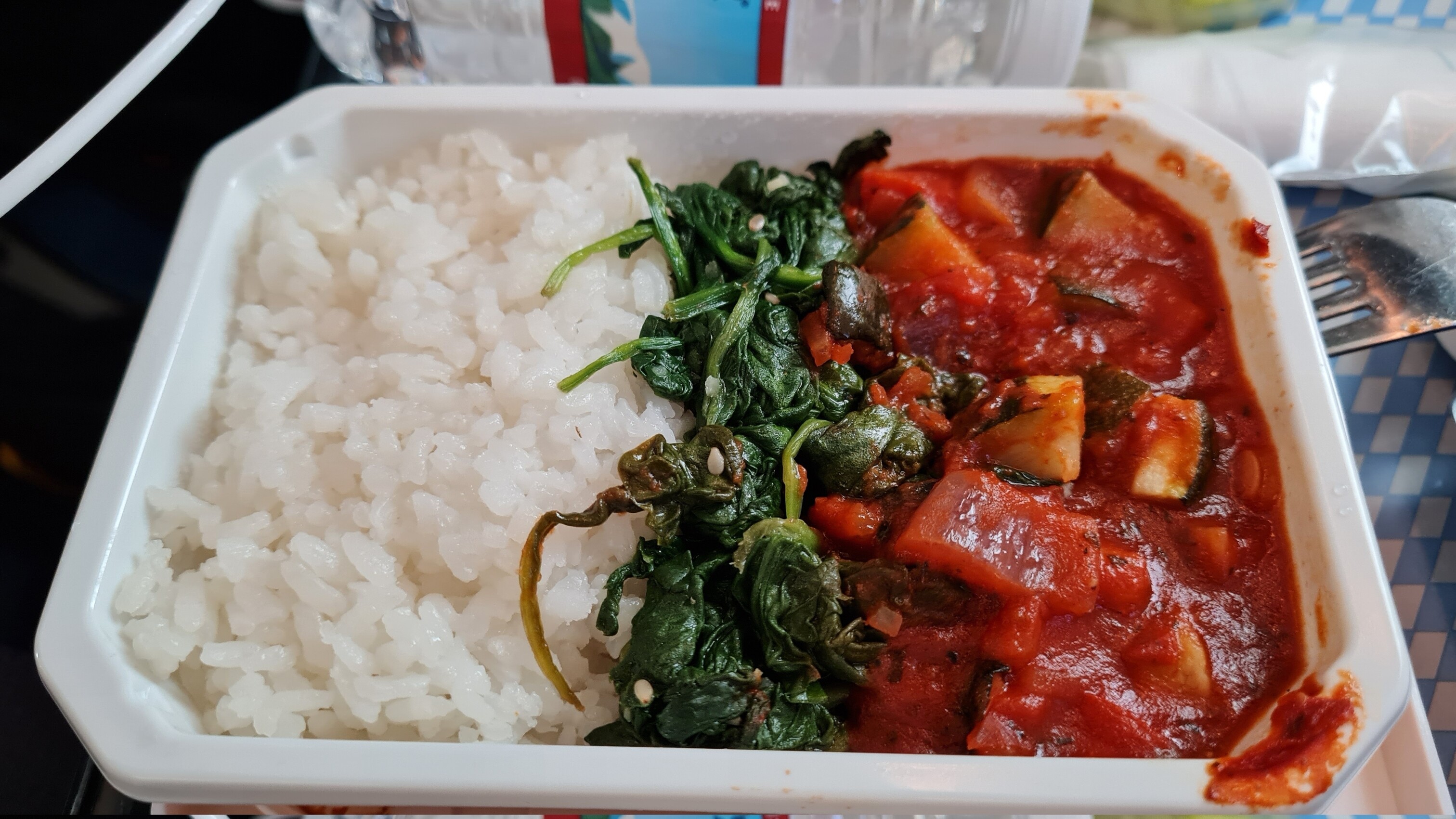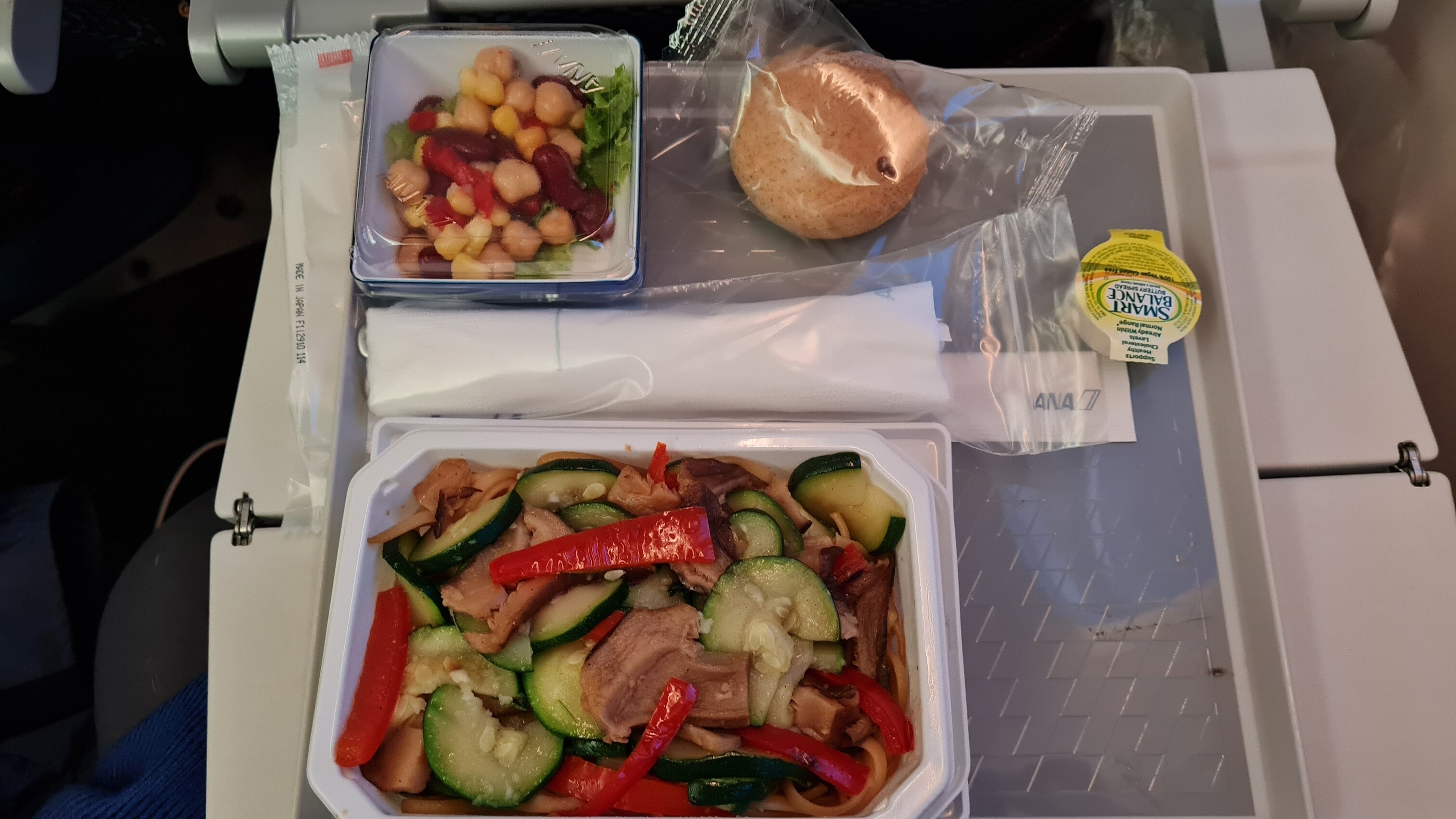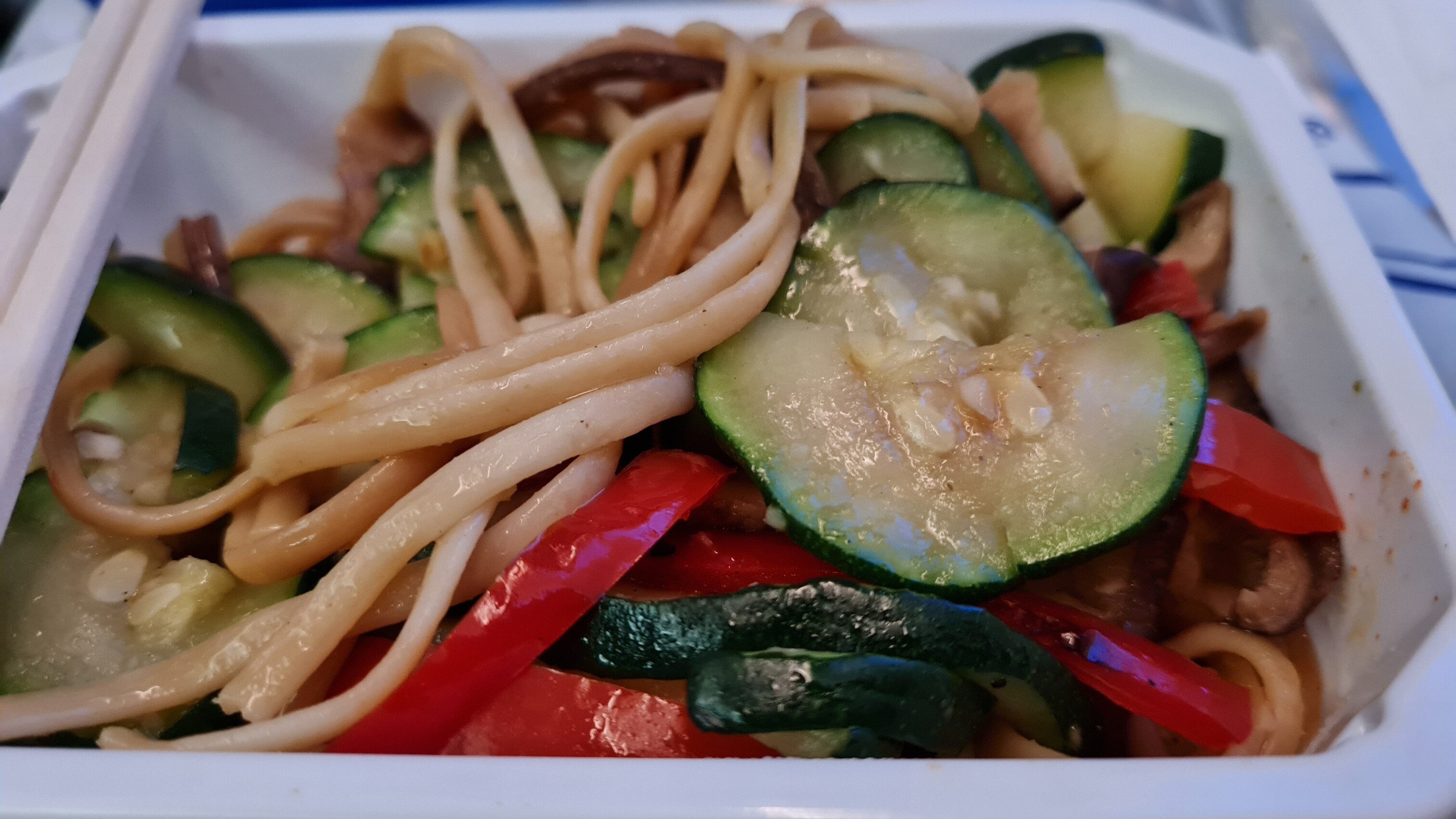 For a 14-hour flight, I had several playlists1 downloaded, plus a Moomins embroidery project for a friend. I brought my Kobo e-reader, but I ended up not using it. My Switch also came in handy when I felt like playing a little Octopath Traveler (thanks, Gab!). Lucky for me, there was nobody smushed up next to me, and my seatmate on the aisle was someone I'd met when interviewing over a year and a half ago. What are the chances? They were really kind and a great conversationalist. Though their placement isn't near me, I hope we can keep in touch!
Overall, I could have slept more but also did all right. The airport wore me out anyways, so it's not like I had trouble falling asleep.
the airport
Masks slipping. Sweat pooling. Shoulder aching. COVID protocols at Narita had us swept along a gauntlet of masked desk workers behind plastic barriers, each asking for form after form to stamp and stack them to be presented at the next checkpoint. Passport, health card, vaccine certificate, pledge, the other pledge ("sumimasen"), negative COVID certificate ("saigo no peeji desu kedo…"). Guh. I swear I'm not leaving Japan (to return) until this mess is OVER. Slobbering meekly into a collection vial is not my idea of good time!
Melodrama aside, it was mostly just long. In typical Japan fashion, the process was really organized, with plenty of assistance in making sure travelers hand over the proper documents. My program is also to thank, for being very clear on arrival procedures so I knew what to expect. After being batted to and fro like a shuttlecock for three hours, I finally got on the bus to our quarantine hotel. Phew!
the hotel
I settle in for two weeks in a tiny (TINY) room in the airport hotel. We're fortunate to get three square meals per day 🙏🏾 So many things to be thankful for! Training videos and stuff, lots of packets to read. And in between, I call my friends and family, work on this blog, and take lots of photos! See you soon!